Hi guys! This is Rita here. Sadly we haven't been posting many recipes lately and I totally blame my master's degree for it (or myself for not having finished it yet - cahem). I'm working on my thesis and it's been quite the time consuming challenge. But I'm glad to say that I am almost done (OMFG YAY) and that we will soon return to posting more recipes. Anyhow, I couldn't let this time of the year run by us without sharing this very special recipe with you guys. This one is as special as it gets because it was born out of the necessity to put the gorgeous figs from my grandparents' yard to good use.
My grandparents and I have a very special bond. They took me in and pretty much raised me during my first year of life, while both my mom and dad were completing their studies. Right up until our teenage years, me and my sister would have lunch and dinner and their place everyday and they'd drop us off and pick us up from school. They helped us run our errands and were always there to celebrate our best moments and redirect our worst. They live in a house my grandma inherited from her aunt and godmother, and in the backyard there is a huge (and I mean YUGE) fig tree that, as their stories tell us, is over 100 years old. Quite a noble tree, I might say! Needless to say this old and wise tree provides us with hundreds of kilos of fresh figs every summer. I haven't actually made the math, but let's say my grandpa picks 15-20kgs of figs every two or three days for two months straight. Me and André join in every now and then so we can help him pick the figs on branches furthest from the trunk. He's 85 years old after all, and we squirm at the thought of him venturing (too much) up on that ladder.
It was my grandpa who taught me everything I know about figs. You only pick the ones whose skins are cracked. The blackish ones are more uncommon and said to be the best (although I'm really a sucker for the green ones). Not all figs can be dried — and these in particular, cannot. You can eat their skins as long as their properly washed, but it might make your lips sticky and tingly. The sap from the fig tree can trigger a nasty reaction on your skin and it might even leave slight burn marks. But really, what's most important is the fact that figs are an absolute delight, a true gift from nature. And what does my grandpa do with all these figs every summer? He drives around town with buckets of figs and he gives them to a several lucky folks: the children's shelter, retirement homes, charity organizations, the farmacy near their home, the entirety of their neighbourhood and... Me. I get my own share of figs every summer and between eating about 30-40 figs a day (YAS AND IT DOES NOT MAKE YOU FAT), giving them to André's family and our friends, there's still about 3 kilos of figs a week that end up all lonely and sad on a shelf in the fridge. (scroll down to continue reading)
And I simply cannot let these go to waste! So I started making a draft version of this very jam a couple of years ago and perfected it last year. This year, it is all set and ready to be shared with you guys. I usually cook a batch of 3-4 kilos of figs in a gigantic pot but I figured that was probably way to much for everyone's liking. Heck, maybe 1 kilo of figs is still too much, but this recipe is very easy to cut in half, if you'd want to. Just bear in mind that if you do cut it in half, it'll take less than 1 hour and 45 minutes to cook.
Now let's talk specs. This is as healthy as jam gets since it's got no refined sugars and no artificial preservatives. The lemon gives it a refreshing zing while the ginger makes things a little bit more interesting (and a big bit spicy). As for the sweetener, I've elected jaggery once more as the one to go with. If you've never heard of jaggery before, it's a funky unrefined sugar made from the sap of date palms or sugar canes, traditionally made in India. I talk a little bit more about it on our post for these Carrot & Orange Muffins and it's also the sweetener of choice in our recipe for this yummy Chocolate & Almond Cake. And last but not least, cinnamon. Because, why the hell not? Give this a go, guys! I hope you'll love just as much as I do.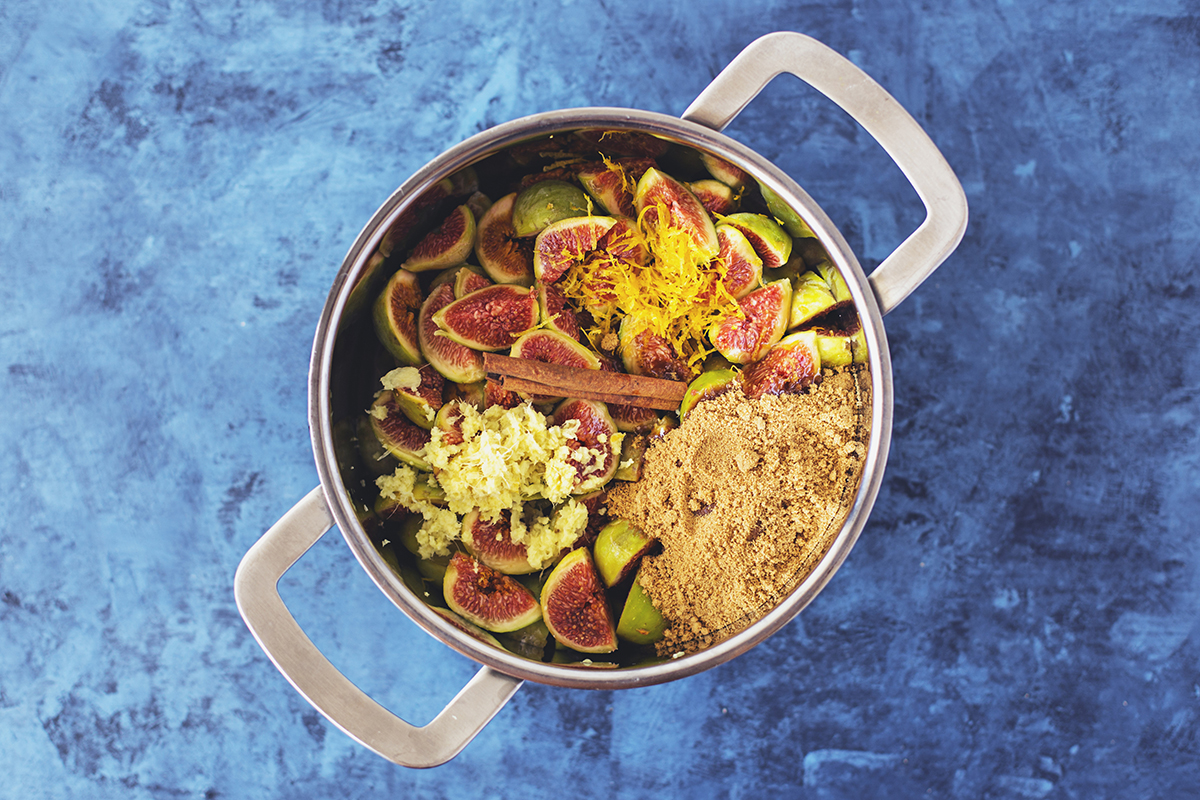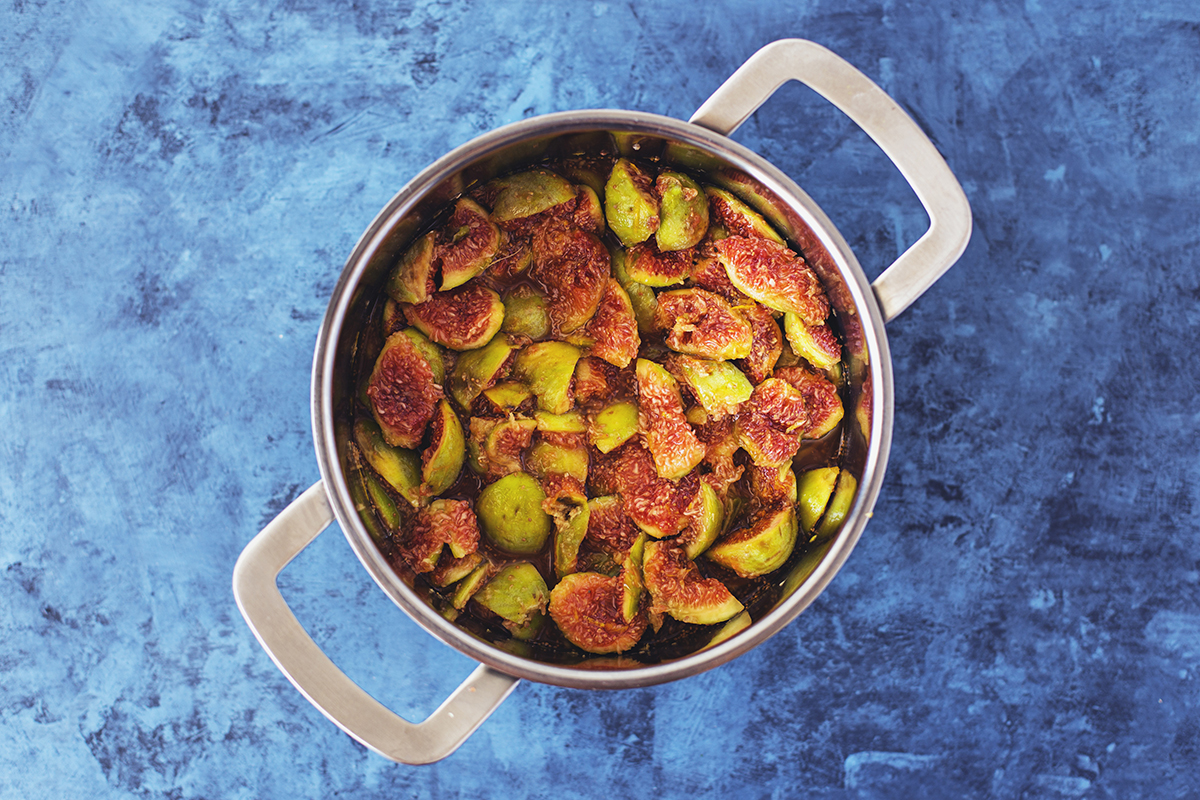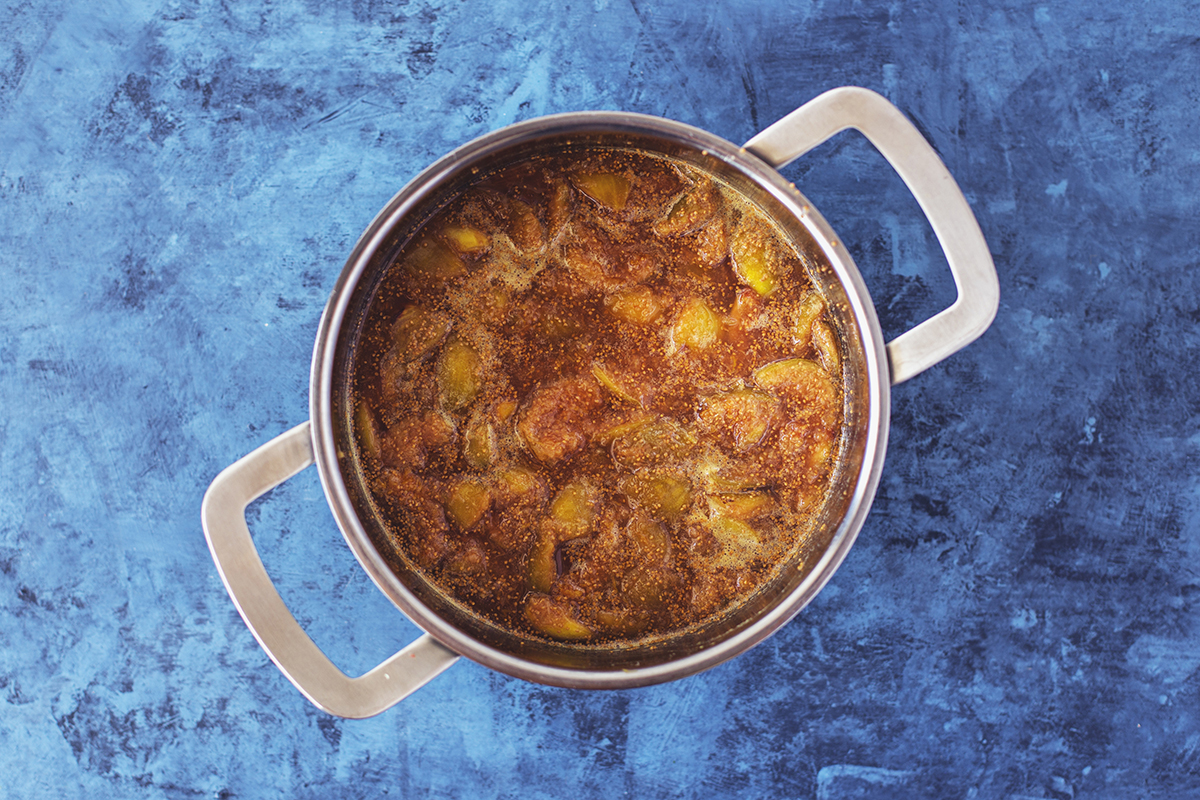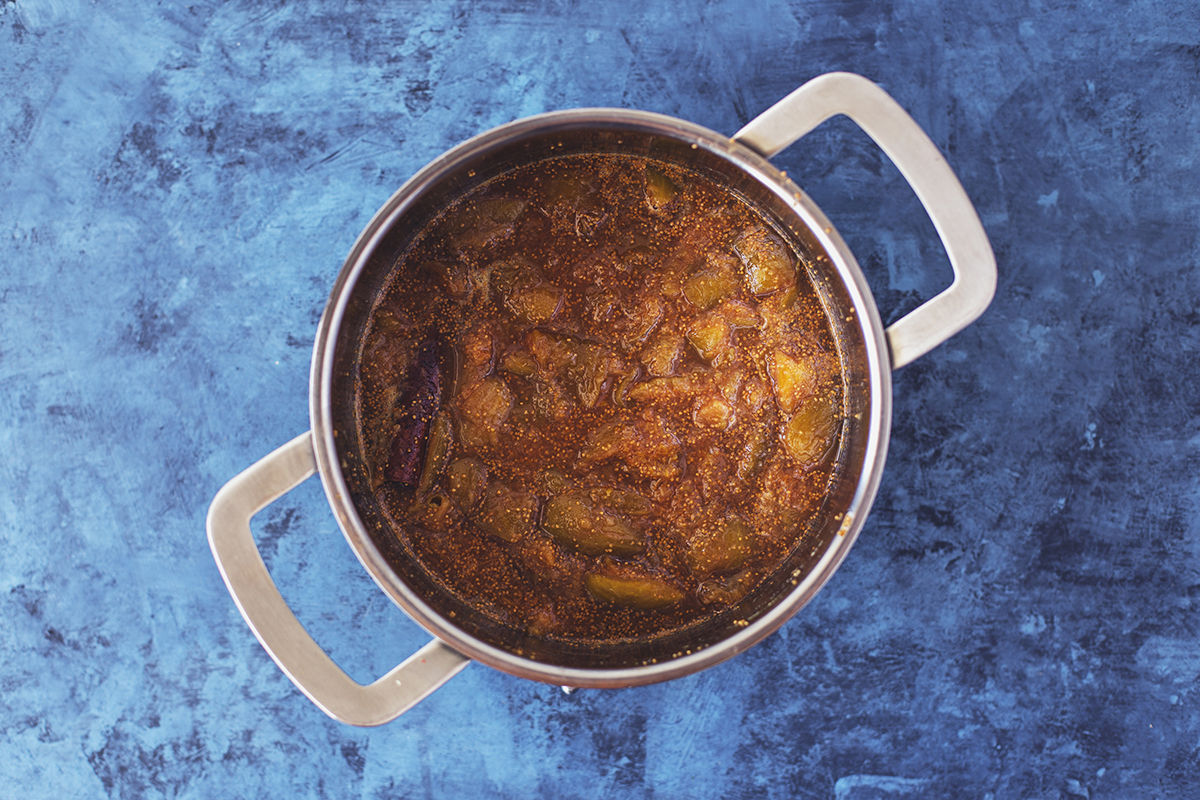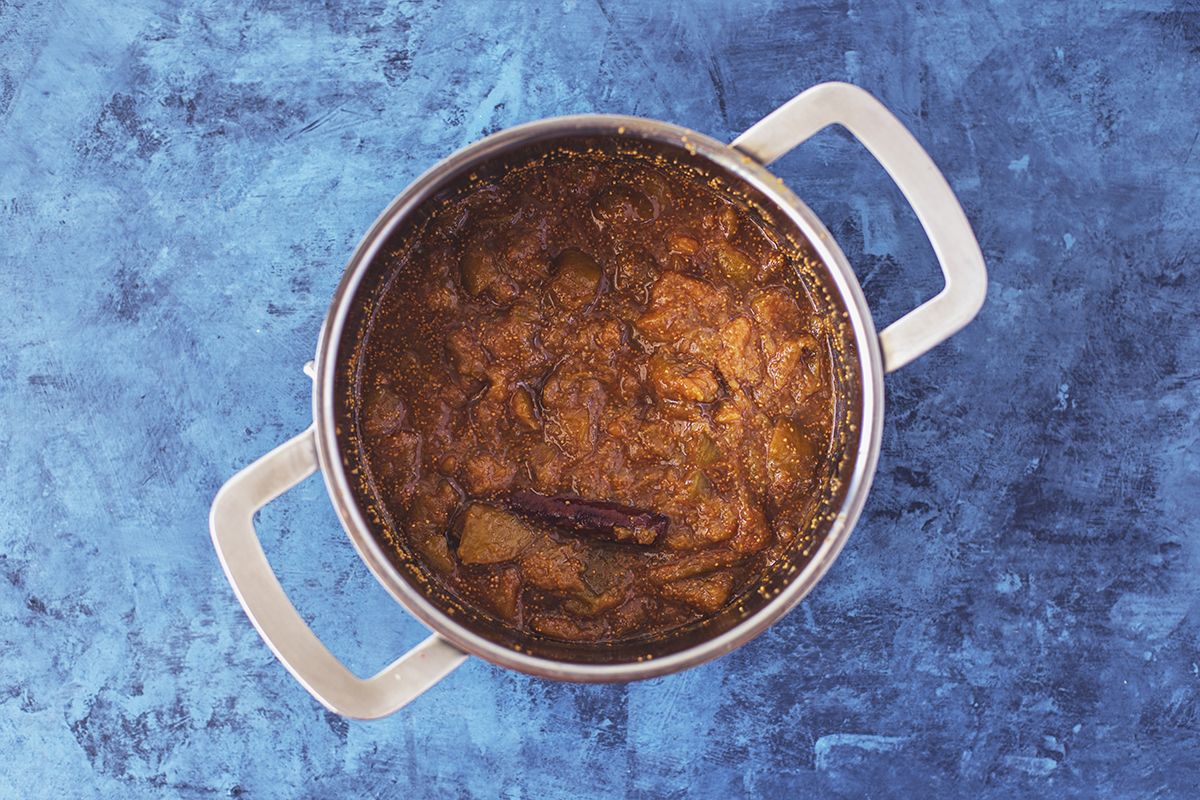 FIG & GINGER JAM
2 hours 15 minutes | makes approximately 3 cups / 800 ml.
INGREDIENTS
1 kg. fresh ripe figs
1/2 cup | 60 gr. jaggery
zest and juice ( about 3 tbsp ) of 1 lemon
30 gr. ginger, peeled and grated
1/2 cup | 125 ml. filtered water
1 cinnamon stick
STEP BY STEP
Start by gathering, preparing and measuring all of the ingredients. This will improve your dynamic in the kitchen.
Gently wash the figs and remove the harder stems, if there are any.
Scatter the figs on a dry, clean kitchen cloth and allow them to dry for 5 minutes.
Cut the figs into quarters and put them in a pot with the rest of the ingredients.
Stir the ingredients vigorously ( mash them even! ) and place the pot on high heat.
Once the mix begins to bubble, reduce the heat to a medium low.
Allow to cook for 1 hour and 45 minutes, stirring every 10 minutes or so.
When it is done, remove from heat and allow to cool for about 15 minutes ( otherwise you may burn a finger or two while jarring the mix! ).
Spoon the jam into a large glass jar and allow to cool completely before putting the lid on and placing it in the fridge.
Store in the fridge for 6-8 months.